Blog
World's first 3D printed yacht to compete in the 2019 Mini-Transat solo transatlantic yacht race.
Knowledge Centers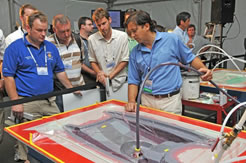 Closed Molding
Composites One and the Closed Mold Alliance provide you with the latest information about closed mold technologies and the advantages, techniques and opportunities that the closed mold process has over open molding.
CompositesWorld Magazine
March Issue
The Carbon Fiber Wheel: Seeking a Less Exclusive Market
Products
JEC World 2018 preview: Evonik
Evonik Industries is introducing a new core material technology called ROHACRYL, an acrylic chemistry-based structural foam with high potential for composite applications.
JEC World 2018 preview: Tri-Mack Plastics
Tri-Mack Plastics Mfg Corp. is sharing the results of a recently completed test that demonstrates the bond strength of Tri-Mack's overmolded thermoplastic composite hybrid parts.
View More Products