Blog
A lot of research effort continues on electric propulsion for aircraft, and challenges remain. As I blogged in 2016, many programs are aimed at developing viable battery-electric or solar propulsion for smaller aircraft. One US-based program is NASA's manned X-57 Maxwell experimental aircraft.
Knowledge Centers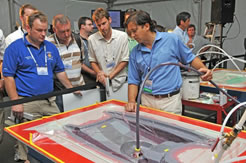 Closed Molding
Composites One and the Closed Mold Alliance provide you with the latest information about closed mold technologies and the advantages, techniques and opportunities that the closed mold process has over open molding.
CompositesWorld Magazine
June Issue
Automation for Audi A8: Tailored Tapes at Top Speed
Sponsored Content
Five Ways to Embrace Continuous Learning at a Trade Show

The educational benefits of trade shows and conferences can be endless, but they require a little extra effort and planning. Here's how to embrace continuous learning and get the most out of your trade show experience.
The spread of spread tow
Advancing from "lighter and thinner" to boosting strength, stiffness, impact resistance and productivity, spread tow unlocks new applications and markets.
Products
Robotmaster V7 offers CAD/CAM integration
Hypertherm has launched Robotmaster V7, a task-based robot programming platform rebuilt on new architecture to offer integrated CAD/CAM functionality and more intuitive robot programming tools.
View More Products