Blog
IDEC explains how Stratasys 3D printing helped the company cut the time, cost and material waste involved with traditional composite molding.
Industry News
OMAX to be acquired by Hypertherm
Hypertherm and OMAX have signed a merger agreement effective in April, combining the companies' portfolios of waterjet and other industrial cutting technologies.
CW Top Shops benchmarking survey now open

CompositesWorld's inaugural Top Shops benchmarking survey recently launched and is open until the end of April. The survey allows composites fabricators to assess the effectiveness and efficiency of their manufacturing operations.
View All News
Knowledge Centers
Automated tape laying (ATL) and automated fiber placement (AFP)
CGTech helps demystify the process of programming automated composite machinery by introducing the key components of machine independent off-line programming software.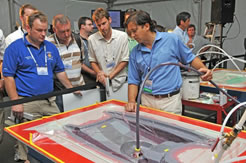 Closed Molding
Composites One and the Closed Mold Alliance provide you with the latest information about closed mold technologies and the advantages, techniques and opportunities that the closed mold process has over open molding.
CompositesWorld Magazine
March Issue
Thermoplastic pipes: Displacing metals in the deep sea