Blog
Whether you are aware of this company, or not, Advanced Composite Products & Technology Inc. (ACPT, Huntington Beach, CA, US) says it thrives on providing innovative and cost-efficient composite solutions. ACPT partners with composite material suppliers including Magnolia Advanced Materials (Atlanta, GA, US,
http://magnolia-adv-mat.com
), a supplier of a diverse card of materials. Magnolia was an important supplier for a recent confidential project involving design and manufacture of a carbon fiber vehicle driveshaft.
Knowledge Centers
Automated tape laying (ATL) and automated fiber placement (AFP)
CGTech helps demystify the process of programming automated composite machinery by introducing the key components of machine independent off-line programming software.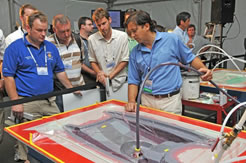 Closed Molding
Composites One and the Closed Mold Alliance provide you with the latest information about closed mold technologies and the advantages, techniques and opportunities that the closed mold process has over open molding.
CompositesWorld Magazine
October Issue
By land air and sea: Composites transport satellites