Blog
CW
Editor-in-chief Jeff Sloan advocates educating the next generation on all levels of future career opportunities — especially in composites.
Knowledge Centers
Automated tape laying (ATL) and automated fiber placement (AFP) CGTech helps demystify the process of programming automated composite machinery by introducing the key components of machine independent off-line programming software.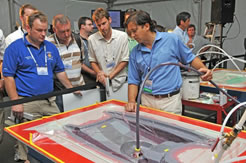 Closed Molding Composites One and the Closed Mold Alliance provide you with the latest information about closed mold technologies and the advantages, techniques and opportunities that the closed mold process has over open molding.
CompositesWorld Magazine