Blog
The carbon fiber body and structural components of the Lamborghini
Terzo Millennio
store electric energy while simultaneously reducing the vehicle's weight.
Knowledge Centers
Automated tape laying (ATL) and automated fiber placement (AFP)
CGTech helps demystify the process of programming automated composite machinery by introducing the key components of machine independent off-line programming software.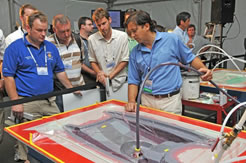 Closed Molding
Composites One and the Closed Mold Alliance provide you with the latest information about closed mold technologies and the advantages, techniques and opportunities that the closed mold process has over open molding.
CompositesWorld Magazine
Pushing EVs forward
Multifunctional chassis design and novel composites processes enable lighter, longer-range, safer electric vehicles.