Blog
EAA's 2018 AirVenture at Oshkosh, WI, US happened during the last week of July and as always offered up a banquet of news and innovative new products, including flying cars, vertical takeoff and landing (VTOL) personal air vehicles and combinations of the two. One of these concepts, called BlackFly and on display at Oshkosh for the first time, caught my attention.
Knowledge Centers
Automated tape laying (ATL) and automated fiber placement (AFP)
CGTech helps demystify the process of programming automated composite machinery by introducing the key components of machine independent off-line programming software.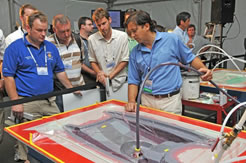 Closed Molding
Composites One and the Closed Mold Alliance provide you with the latest information about closed mold technologies and the advantages, techniques and opportunities that the closed mold process has over open molding.
CompositesWorld Magazine
August Issue
Carbon fiber SMC Chassis Subframe: Rugged for High Road Loads