Blog
Cincinnati Inc. explains the process for creating and their record-holding additively manufactured tool.
Knowledge Centers
Automated tape laying (ATL) and automated fiber placement (AFP)
CGTech helps demystify the process of programming automated composite machinery by introducing the key components of machine independent off-line programming software.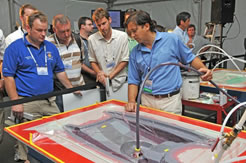 Closed Molding
Composites One and the Closed Mold Alliance provide you with the latest information about closed mold technologies and the advantages, techniques and opportunities that the closed mold process has over open molding.
CompositesWorld Magazine
November Issue
Pushing to New Levels: CFRP Components in Electric Vehicles
Filament winding, reinvented

Robots and digital technology deliver speed plus larger, more complex parts,
while generative 3D winding obviates mandrels and waste for automotive applications.
Pushing EVs forward
Multifunctional chassis design and novel composites processes enable lighter, longer-range, safer electric vehicles.