Blog
Low-maintenance, corrosion-resistant fiber-reinforced polymer flotation structures solve infrastructure maintenance issues for a U.S. Navy base.
Knowledge Centers
Automated tape laying (ATL) and automated fiber placement (AFP) CGTech helps demystify the process of programming automated composite machinery by introducing the key components of machine independent off-line programming software.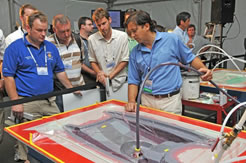 Closed Molding Composites One and the Closed Mold Alliance provide you with the latest information about closed mold technologies and the advantages, techniques and opportunities that the closed mold process has over open molding.
CompositesWorld Magazine
Carbon Fiber / Filament Winding
Composite T-boom accelerates industrial automation
A manufacturing method that integrates filament winding with axial winding of 0-degree fibers has opened new design options for transfer components in industrial automated equipment. One such design, for high-performance composite T-booms, helps manufacturers boost cost-critical production rates reportedly by as much as 20%.