Blog
Safran Cabin, Victrex and Tri-Mack Plastics collaborate to migrate an aerospace storage bin from aluminum to an overmolded thermoplastic composite. The result proves the promise of thermoplastics in aerospace interiors.
Knowledge Centers
Automated tape laying (ATL) and automated fiber placement (AFP) CGTech helps demystify the process of programming automated composite machinery by introducing the key components of machine independent off-line programming software.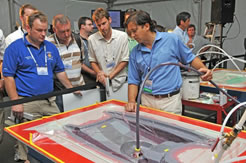 Closed Molding Composites One and the Closed Mold Alliance provide you with the latest information about closed mold technologies and the advantages, techniques and opportunities that the closed mold process has over open molding.
CompositesWorld Magazine