Blog
GMT protection buys time for offboarding emergency services call before battery shorts out.
Knowledge Centers
Automated tape laying (ATL) and automated fiber placement (AFP)
CGTech helps demystify the process of programming automated composite machinery by introducing the key components of machine independent off-line programming software.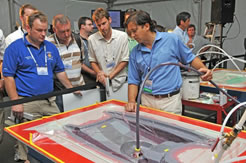 Closed Molding
Composites One and the Closed Mold Alliance provide you with the latest information about closed mold technologies and the advantages, techniques and opportunities that the closed mold process has over open molding.
CompositesWorld Magazine
April Issue
Composites use grows in agricultural equipment
Spar forming simplified
Adapting its Automated Stiffener Forming (ASF) technology to build spars directly in female molds, Northrop Grumman Innovation Systems anticipates dramatic drops in cycle time and manufacturing cost.