Blog
CW
's monthly roundup of new products for the composites industry – this month has seen innovations from Masterbond, MultiMechanics, NLign Analytics, Nordson and Verisurf.
Knowledge Centers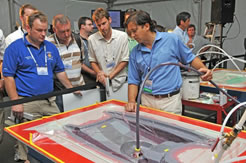 Closed Molding
Composites One and the Closed Mold Alliance provide you with the latest information about closed mold technologies and the advantages, techniques and opportunities that the closed mold process has over open molding.
CompositesWorld Magazine
July Issue
Spain's Pajares Transit Tunnels: FRP Water-proofs 24-km Passage
Sponsored Content
Five Ways to Embrace Continuous Learning at a Trade Show

The educational benefits of trade shows and conferences can be endless, but they require a little extra effort and planning. Here's how to embrace continuous learning and get the most out of your trade show experience.
Drones: Composite UAVs take flight

First seen in defense applications, unpiloted aircraft development is surging in the commercial world, enabled by a host of new material, process and assembly technologies.
Products
Verisurf to debut 2019 software version
Verisurf 2019 is the latest release of the measurement software for automated quality inspection and reporting, scanning and reverse engineering, tool building and assembly guidance.
View More Products