Blog
Continental Structural Plastics compounding facility in Van Wert is celebrating 40 years in business.
Knowledge Centers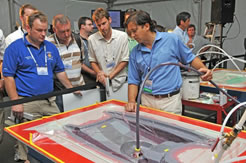 Closed Molding
Composites One and the Closed Mold Alliance provide you with the latest information about closed mold technologies and the advantages, techniques and opportunities that the closed mold process has over open molding.
CompositesWorld Magazine
June Issue
Automation for Audi A8: Tailored Tapes at Top Speed
Sponsored Content
Five Ways to Embrace Continuous Learning at a Trade Show

The educational benefits of trade shows and conferences can be endless, but they require a little extra effort and planning. Here's how to embrace continuous learning and get the most out of your trade show experience.