Related Suppliers
Carbon fiber is already being shipped from the much-discussed and now fully operational SGL Automotive Carbon Fibers plant in Moses Lake, Wash., a joint venture of the SGL Group (Charlotte, N.C., and Wiesbaden, Germany) and high-end auto manufacturer BMW Group (Munich, Germany).
During the opening ceremony on Sept. 1, fiber products and a full BMW i-type chassis were prominently on display. Attended by Washington Governor Christine Gregoire (center in photo above) and a host of dignitaries, as well as HPC, the event underscored the importance of the joint venture and the automotive trend that it presages.
Managing directors Joerg Pohlman and Andreas Wuellner (second from left and far left) of SGL Automotive Carbon Fibers took the podium together to thank those responsible for the plant's rapid construction. "It was an amazing job to get this completed on time and under budget, particularly given the heavy snows last winter," said Wuellner, who pointed out that the plant is part of the Port of Moses Lake's foreign trade zone, which assists import-heavy enterprises.
"This is the world's first carbon fiber plant dedicated to serial production of automobiles, and it's the most efficient," declared Pohlman. "We are ready to produce and are ready to expand."
The plant has created approximately 80 permanent jobs for the local area, with much of the job training completed at nearby Big Bend Community College. SGL's CEO Robert Koehler (far right) called the event a "piece of industrial history," not only because of BMW's decision to use carbon fiber in its all-electric i3 and i8 autos, but also because of the hydroelectric-powered plant's very small carbon footprint.
"Carbon fiber is a megatrend in material substitution," he added, noting that SGL is well positioned to be a major player in the composites industry. BMW's CEO and board chairman Dr. Norbert Reithofer (second from right) started his presentation with the quote "Fortune favors the bold," noting that the concept of electric urban vehicles made from carbon is a milestone that marks a new era for BMW and a new production paradigm. "Someone has to show what the future looks like, and we're doing it."
Governor Gregoire celebrated the opening with obvious pride in the plant's green attributes, noting that the State of Washington shares the SGL/BMW group's values in choosing clean energy and looking to the future and new technologies. She envisions a world where the norm is to "recharge," rather than "refill" a tank with gas.
"By the end of 2011, Washington will open its Electric Highway project along I-5, with recharging stations located every 40 to 60 miles — the first of its kind in the world," she announced. "In the not-too-distant future, there will be 300,000 electric vehicles in Washington, a sign of what tomorrow holds."
Governor Gregoire also made reference to The Boeing Co.'s (Seattle, Wash.) 787 Dreamliner program and Washington's position as the fourth largest wind power producer in the U.S. as further examples of the state's command of 21st Century skills and materials. At the conclusion of the speeches, spools of carbon tow were presented to Gregoire, Koehler and Reithofer by Wuellner and Pohlman.
The plant, situated on 60 acres adjacent to the Moses Lake airport, currently has two carbon fiber production lines running, each with an annual capacity of 1,500 metric tonnes (3.3 million lb), with room for expansion. Polyacrylonitrile (PAN) precursor material is shipped to Washington from MRC SGL Precursor Co. Ltd. (Otake, Japan), a joint venture between Tokyo-based Mitsubishi Rayon and SGL Group. MRC SGL is the exclusive supplier of the required precursor fiber for the project.
The Moses Lake plant converts the precursor to carbon fiber, which is then shipped to another SGL Automotive Carbon Fibers plant in Wackersdorf, Germany, where it is converted into fabrics for BMW. The carbon fiber composite parts will be made from these fabrics at the BMW Group plant in Landshut, Germany. The assembly of the BMW i3 and i8 vehicles will take place at another BMW Group facility in Leipzig, Germany.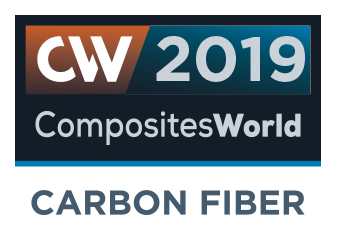 Carbon Fiber 2019 Presenter
SGL Carbon SE
RELATED CONTENT
Fast-reacting resins and speedier processes are making economical volume manufacturing possible.

The structural properties of composite materials are derived primarily from the fiber reinforcement. Fiber types, their manufacture, their uses and the end-market applications in which they find most use are described.

Old process updated and automated to offer lower cycle time and cost in BMW 7 Series plus potential for void-free, 65% fiber volume composite parts.