Blog
Frazer Barnes, managing director of ELG Carbon Fibre (Coseley, UK), joins CW Talks: The Composites Podcast to discuss his and his company's work developing carbon fiber recycling technologies, and the fiber reinforcements that result.
Industry News
Carbon Fiber conference agenda nears completion

The 2017 Carbon Fiber conference, Nov. 28-30 in Charleston, SC, US, includes a tour of the Boeing South Carolina plant, a panel on carbon fiber recycling and a pre-conference seminar on carbon fiber in transportation and energy applications.
View All News
Knowledge Centers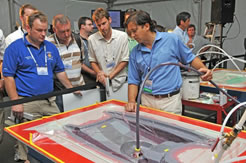 Closed Molding
Composites One and the Closed Mold Alliance helps demystify the process of Composites One and the Closed Mold Alliance provide you with the latest information about closed mold technologies and the advantages, techniques and opportunities that the closed mold process has over open molding.
CompositesWorld Magazine