Blog
Student group from the Technical University of Munich sets new Hyperloop speed record and wins second SpaceX Pod Competition.
Knowledge Centers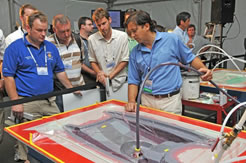 Closed Molding
Composites One and the Closed Mold Alliance helps demystify the process of Composites One and the Closed Mold Alliance provide you with the latest information about closed mold technologies and the advantages, techniques and opportunities that the closed mold process has over open molding.
CompositesWorld Magazine
CAMX 2017 exhibit preview

ACMA and SAMPE's fourth CAMX will be the largest composites trade show in the composites industry's largest market. Held in Orlando, FL, this year, it promises an even more robust exhibition and conference program.