Web Industries Inc. (Marlborough, Mass., U.S.) has announced that it is building a new production facility for precision-formatted composite materials near Seattle, Wash., U.S., targeted at optimizing the supply chain for aerospace OEMs in the Pacific Northwest, including Boeing and Toray (Tacoma, Wash., U.S.).
The new facility will supply composite slit tape for the Boeing 777X and position the company to provide responsive formatting services to other businesses in the region, Web says.
Source | Web Industries
The plant is expected to be operational in January 2021 following construction, equipment qualification and employee training. Located in Marysville, Wash., Web says it is located close to Boeing's final assembly plant in Everett and supplier Toray Composite Materials America's processing facility in Tacoma, with the intention of speeding delivery to these customers.
"Our new composites formatting facility is the realization of our commercial commitment to Toray and Boeing," says Web Industries President and CEO Mark Pihl.
"Web has been a long-standing partner of Toray and enabled us to expand our product portfolio of advanced materials with great results, says Don Myers, director of aerospace sales, Toray CMA. "We look forward to continuing our work with Web Industries as they start up their facility in Marysville."
Groundbreaking is scheduled this spring for the 12-acre manufacturing site, which will house:
75,000 square feet for Web's custom-built precision slitting, winding and spooling operations;

9,000 square feet of refrigerated warehousing for stable storage of composite material pre-impregnated with thermosetting resin (

prepreg

); and

space to add product development and composite material ply cutting and kitting services.
In addition, the Washington State Department of Commerce has provided a $150,000 grant from Governor Jay Inslee's economic development strategic reserve fund to support the new facility's location.
"By providing localized manufacturing to support the 777X, Boeing and Toray are expected to see improved affordability and sustainable competitive advantages," Pihl adds. "There are benefits associated with lower transportation, packaging and inventory costs, as well as reduced lead times. We look forward to the innovation and continuous improvement focus that will come with close collaboration."
"Web will profit by adding value to our existing products and services and gaining entrée to new business opportunities with aerospace manufacturing companies throughout the Northwest region," Pihl says. "With our technical resources based locally, we will offer the ability to collaborate on new business development and help our customers enable their own growth strategies."
This announcement was made in conjunction with SAMPE 2019 in Charlotte, N.C., U.S. At the show, Boeing CTO Greg Hyslop gave a keynote presentation on the future of advanced materials in aerospace: "Boeing CTO addresses advanced materials in aerospace, urban mobility"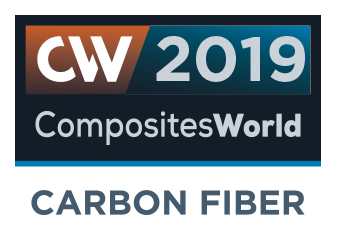 Carbon Fiber 2019 Presenter
Toray Composite Materials America Inc.
RELATED CONTENT
The structural properties of composite materials are derived primarily from the fiber reinforcement. Fiber types, their manufacture, their uses and the end-market applications in which they find most use are described.

Spirit AeroSystems actualizes Airbus' intelligent design for the A350's center fuselage and front wing spar in Kinston, N.C.

Capable of volume production, thermoplastic composites will gain new market share in the aerospace industry.