Related Suppliers
In the U.S., the annual Society for the Advancement of Material and Process Engineering's (SAMPE) Convention & Exhibition returned, for the first time since 2008, to its long-time base in Long Beach, Calif., after a first-ever Pacific Northwest showing this past year in Seattle, Wash.
The four-day event, held May 23-26 at the Long Beach Convention Center, met with considerable success: The SAMPE 2011 exhibit hall was sold out this year, with 356 exhibitors (including 106 first-time exhibitors) representing 555 companies in the advanced M&P sector. Attendance figures indicated the show took a large leap: The official count topped 7,100, with delegates coming from 48 U.S. states and the District of Columbia, and 27 other countries.
Organized by SAMPE's Orange County Chapter, the SAMPE conference was cochaired by Joyce Lentz, president of National Aerospace Supply Co. (San Juan Capistrano, Calif.) and Darrell Reed, quality control engineer at OCM Test Labs (Anaheim, Calif.). Eight tutorials and more than 250 technical papers were presented by M&P practitioners and researchers during the four-day event.
"SAMPE is on an upward trend," commented Dr. Allan Crasto, associate director at UDRI (Dayton, Ohio) and sitting SAMPE international president. "We seem to have fully recovered from the impact of the recession."
On Tuesday, conference delegates attended a keynote presentation on "Understanding and Managing Risk in Human Space Flight Developments and Operations" by Dr. Mike Ryschkewitsch, Chief Engineer with NASA. His speech discussed NASA's approach to certification of systems for human spaceflight.
Wednesday's keynoter Andreas Wüllner, the managing director of SGL Automotive Carbon Fibers GmbH (Munich, Germany), filled in the background on the events that led to this much publicized SGL/BMW joint venture's decision to build its nearly captive carbon fiber production plant in Moses Lake, Wash. Wüllner reported that the carbon fiber manufacturing facility is complete and that testing of the first production line will begin this summer, followed by official the plant's opening sometime in third quarter 2011. In his presentation, "SGL Carbon Group – BMW: A Visionary Join Venture for Carbon Fiber Composites in Automotive Applications," he updated the audience on the development of the BMW all-electric i3 and hybrid-electric i8 vehicles, both of which make use of resin transfer molded SGL carbon fiber composites in the passenger cell, called the Life Module. During Q&A afterwards, Wüllner was asked about repair of carbon fiber composites on the two cars in the event of damage. Wüllner said that BMW is establishing dedicated global repair facilities designed specifically to deal with and repair damaged composite structures. He would not say, however, whether body panels (hood, roof, door panels, etc.) on the i3 and i8 would be made of composites.
In addition to keynote presentations, conference attendees had their pick of distinguished lectures, panels and sessions to attend. Topics included natural materials, out-of-autoclave technology, design and analysis, tooling, repair, and nondestructive evaluation, to name a few.
Given the abundance of exhibitors this year, HPC staffers anticipated that a number of newsworthy developments might be on display. They were correct in that assumption. On the following pages, you'll find a sampling of what was available.
SAMPE 2012 will mark the society's return to its East Coast hub. It will be held May 21-24, 2012 in Baltimore, Md. at the Baltimore Convention Center.
Show Notes
TenCate Advanced Composites (Morgan Hill, Calif.) has been active lately on the personnel front. Michael Favaloro, formerly with Ticona (Erlanger, Ky.) , has joined TenCate as director, industrial sales and marketing, North America. And Steve Mead, who until two years ago managed sales and marketing at Fiberforge (Glenwood Springs, Colo.) and subsequently left the composites industry, is back as vice president of sales and marketing, North America at TenCate.
Bleeder and breather cloths manufacturer The Warm Co. (Lynnwood, Mass.) has updated its name and image in an effort to more accurately convey to the market the nature and scope of is products. The company is now called Warm Industrial Nonwovens and has a new Web site: www.warmindustrial.com
Machining and automation specialist American GFM (AGFM, Chesapeake, Va., USA), which has been working for several years as part of a consortium designed to address off-aircraft repair of composite aerostructures, reports that it has been invited to be part of discussions at Boeing regarding on-aircraft repair systems and materials. On-aircraft composite repair systems for the composites-intensive Boeing 787 are apparently still being assessed by the planemaker. On-aircraft repair is considered more challenging given the need for portable non-destructive testing (NDT), the generation of much heat on the aircraft during cure at the point of repair, possible adverse weather conditions, and other variables that are easier to control in off-aircraft reapair. AGFM says that it's possible another consortium will be established to tackle the issue, and partners could include some of the same firms that developed the off-aircraft repair processes. Partners include AGFM, Abaris Training Resources, Assembly Guidance, FE Assoc., Picometrix, Steinbicher Optotechnik and VISTAGY.
Stephen Nolet, best known as principal engineer at blade manufacturer TPI Composites (Scottsdale, Ariz., USA), was at SAMPE in a different capacity — R&D leader of Armored Chariots, the new joint venture of TPI and Plasan (Sasa, Israel). Announced late in 2010, Armored Chariots, based in Warren, R.I., will design and then produce next-generation crew compartments for military vehicles. Composites provided by Armored Chariots are expected to produce a lighter, stronger, more durable vehicle. Nolet said the venture's just getting started. Volume manufacturing is expected to commence in the 2012 to 2013 timeframe.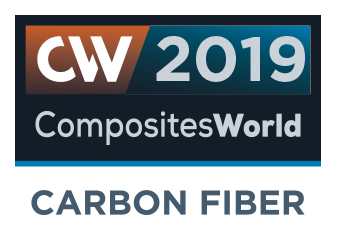 Carbon Fiber 2019 Presenter
SGL Carbon SE