Related Suppliers
Salt Lake City, Utah, proved to be a popular destination for the 2010 SAMPE Technical Conference, held at the Salt Palace Convention Center in conjunction with the Society of Manufacturing Engineers' (SME) Tooling for Composites event. Near-record attendance and exhibitor numbers at the co-located events, following the very successful 2009 Wichita event, appeared to point towards an industry upswing.Indeed, the event's welcome reception, held in the entrance lobby of the Salt Palace and sponsored by Huntsman Advanced Materials (The Woodlands, Texas) was packed with participants.
On the technical program side, the Tuesday keynote by Dr. Gary Fischman of Future Strategy Solutions (Washington, D.C.), focused on the possibilities of multifunctional materials, which was followed by the Overview of Out-of-Autoclave (OOA) U.S. Programs. Panelists, including John Russell and Tara Storage of the Air Force Research Laboratory (AFRL, Wright-Patterson Air Force Base, Ohio, USA), Danna Haddad-Kelley of Advanced Technology International (ATI), a private affiliate of the South Carolina Research Authority (SCRA, Columbia, S.C., USA), and Jim Sutter of NASA Glenn Research Center (Cleveland, Ohio, USA), among others, discussed ongoing projects that are investigating the properties of OOA resin systems and materials for critical aerospace structure. Russell stressed that the drivers for OOA materials include a limited number of large autoclaves, most of which are tied up by Boeing and Airbus commercial parts; the ability to be more creative with parts and shapes, on lower-cost tooling; and a definite maturation of the technology. He also issued some challenges to suppliers, which included: 1) making ancillary materials like adhesives compatible with OOA vacuum processing, 2) achieving a 25 percent increase in notch properties with no microcracking and 3) longer outtimes. Haddad-Kelley of ATI discussed her role in an ongoing program involving automation and material suppliers, industry fabricators and government agencies to incorporate OOA materials in automated processing to try to beat the outtime limitations of most OOA systems. Test panels are being fabricated, and common metrics applied, including true laydown rates and common inspection methods and criteria, to detect voids.
Other notable sessions included papers on aligned, discontinuous fiber materials; multifunctional materials (including self-healing polymers and integral conductors); high-temperature resins; and a joint SAMPE/SME panel on large composite tools and automated manufacturing and the challenges therein. Wednesday's keynoter, Graham Barnes of Engenuity Ltd. (Cuckfield, West Sussex, U.K.), discussed the Plastics and Composites Intensive Vehicle (PCIV) and the challenges of incorporating composite materials in energy-saving vehicles. Vern Benson of ATK Space Systems (Magna, Utah, USA) was the featured lecturer and discussed the breakthroughs and opportunities of composites manufacturing automation.
The best technical paper award went to Dr. Don Radford of Colorado State University (Ft. Collins, Colo., USA) who discussed process improvements for resin transfer molding (RTM) of composite intake valves for internal combustion engines. On Wednesday, a panel made up of representatives of several carbon fiber manufacturers, as well as Chris Red of Composite Market Reports, and chaired by Dr. Mohamed Abdallah of Oak Ridge National Laboratory (ORNL, Oak Ridge, Tenn.), discussed carbon fiber and future supply and demand. A general conclusion expressed by at least some of the participants is that due to the economic downturn of the past two years, demand for carbon fiber is lower, and excess capacity exists at present.
In the busy exhibit hall, both familiar and new faces were present; here are a few of the products on display. Smart Tooling (Dayton, Ohio, USA), a fresh spinoff from Cornerstone Research Group, offered its tooling and repair systems made with shape memory polymers (SMPs). The rapidly reconfigurable mandrels are reportedly less expensive than silicone or other types of inflatable mandrels for trapped tooling and are readily adaptable to automated processes. Across the aisle, another company offering an innovative solution for trapped tooling was Advanced Ceramics Mfg. (Tucson, Ariz., USA). The company's Fastcore and recently-developed Rapidcore products are washout mandrels, readily sealed with Teflon material, that can be quickly manufactured for prototyping or production. In the case of Rapidcore, it can be directly "printed" from CAD data, then washed out after molding. The partnership of tooling provider Westminster Solutions (Plainfield, Conn., USA) and SINGLE Temperature Controls Inc. (Charlotte, N.C., USA) exhibited a new thermal management system that uses highly pressurized hot water to heat metal molds, as an alternative to oils or glycol.
A&P Technology (Cincinnati, Ohio, USA) showcased its Qiso 0/+60/-60 balanced reinforcement material, which can be tailored for specific applications by adding fibers as needed. Zyvax Inc. (Ellijay, Ga., USA) exhibited its new NanoSystem Sealer SF mold surface prep product, together with NanoRelease, a high-performance release coating that is odor-free and provides multiple part releases. Zyvax's StayZ spray interface product was also on display, a unique spray adhesive for temporary placement of dry laminates that is completely compatible with the resin matrix, says the company.
Conductive Composites Co. (Heber City, Utah, USA) showed its conductive materials, including fibers and broadgoods, with chemical vapor deposition (CVD)-deposited nickel coatings. C.R. Onsrud Inc. (Troutman, N.C., USA) showed its new "hybrid" CNC machines, made in the U.S., that can perform routing and milling on one platform. FlackTek Inc. (Landrum, S.C., USA) demonstrated its dual-asymmetrical centrifugal (DAC) mixing machines for quick and effective mixing of resins and adhesives. The technique does not incorporate air into the mixture and uses no blades.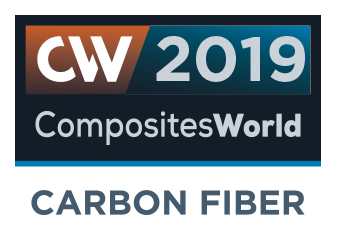 Carbon Fiber 2019 Presenter
Orbital ATK Aerospace Structures