Related Suppliers
SpaceX CEO Elon Musk challenged teams from all over the world to build pods for Hyperloop, a futuristic transport concept that could move people and goods through tubes at extremely high speeds. On Jan. 27-29, the teams were invited to test their pods in a 1.2 km-long tube located adjacent to the SpaceX grounds in Hawthorne, Calif. Delft University of Technology and its carbon fiber Delft Hyperloop pod achieved first place in the inaugural SpaceX Hyperloop competition weekend.
Delft Hyperloop's team, who won the overall award in addition to the award for best construction and design, were one of only three teams who passed the criteria to progress to a run in the SpaceX Hyperloop test track. Their half-scale pod, which measures 4.5m long and 0.85m in diameter, was the first pod shell to be designed using carbon fiber composites, winning the "Pod Innovation Award" during the competition's January 2016 design weekend. From this event, 29 teams from across the world were selected to progress and manufacture a scaled version of their pod design.
TenCate provided Delft's team with the supply of epoxy-based carbon fiber composite materials for the manufacture of the pod's monocoque, resulting in a strong yet lightweight pod weighing only 149 kg. The competition follows 18 months of design, build and development by the student team at TU Delft, which was judged on speed, efficiency, safety and scalability of design.
"We're excited to be part of TU Delft's journey during this historic Hyperloop pod competition" says Steven Mead, chief commercial officer of TenCate Advanced Composites."This is a prime example of where the inherent lightweight and strong properties of advanced composite materials meet the demand for the new frontiers of mass transportation".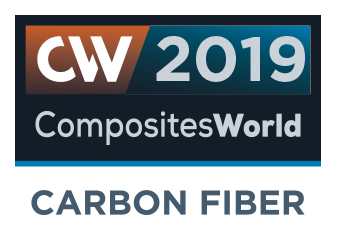 Carbon Fiber 2019 Presenter
Toray Advanced Composites
RELATED CONTENT
Yes, advanced forms are in development, but has the technology progressed enough to make the business case?

A look at the process by which precursor becomes carbon fiber through a careful (and mostly proprietary) manipulation of temperature and tension.

The structural properties of composite materials are derived primarily from the fiber reinforcement. Fiber types, their manufacture, their uses and the end-market applications in which they find most use are described.