Related Suppliers
The Composite Recycling Technology Center (CRTC) has recieved a $1.73 million state grant to fund advanced manufacturing equipment at its new Port Angeles, Wash. facility. The grant by the Washington State Department of Commerce, from its Clean Energy Fund 2 program, will allow the purchase and installation of equipment to recycle carbon fiber scrap from the aerospace industry into value-added products.
Production at the site should begin by the end of this year, creating more than 20 jobs by the end of 2017. The facility's product offerings will focus long-term on clean-energy applications, with specific products yet to be announced. This grant was made possible by matching funds provided by the Port of Port Angeles through a series of Economic Development Services Agreements with the CRTC.
The CRTC, an independent 501(c)(3) non-profit, was launched by the Port of Port Angeles as an economic development initiative to respond to the growing need of the composite and aerospace industries to recycle and reuse remnants from their production processes.
The award marks a "giant stride" for CRTC as it launches a groundbreaking industry based on reusing premium aerospace materials that goes to landfill today, says Bob Larsen, CRTC CEO.
"This grant is one of the last pieces of the puzzle to enable CRTC to become the source of new jobs and economic development for our community and county," Larsen says. "CRTC is now poised to accelerate its production plans and increase the number of jobs it creates in the coming year."
CRTC moved into a new production facility on 18th Street in Port Angeles in August. CRTC has a supply agreement with Toray Composites (America) Inc., and discussions are underway with other "major carbon fiber scrap producers in Washington and in other parts of the country." This award enables the CRTC to develop the production process and associated machinery to take advantage of the world-wide opportunity of carbon fiber scrap going to landfills.
Funding for the new recycling facility and campus was provided to the Port of Port Angeles by the U.S. Economic Development Administration, the Washington State Department of Commerce and the Clallam County Opportunity Fund with the City of Port Angeles providing significant in-kind support.
The CRTC campus also houses Peninsula College's Advanced Manufacturing-Composite Technology program with classrooms, offices and lab facilities.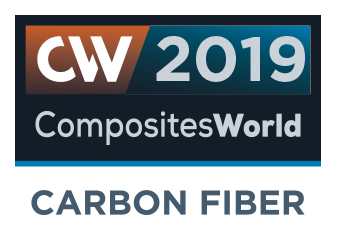 Carbon Fiber 2019 Presenter
Toray Composites (America) Inc.
RELATED CONTENT
Tried-and-true materials thrive, but new approaches and new forms designed to process faster are entering the marketplace.

Lightweight, hard and stable at high temperatures, CMCs are emerging from two decades of study and development into commercial applications.

There are numerous methods for fabricating composite components. Selection of a method for a particular part, therefore, will depend on the materials, the part design and end-use or application. Here's a guide to selection.