Related Suppliers
General Atomics Aeronautical Systems, Inc. (GA-ASI, Poway, CA, US), a leading manufacturer of Remotely Piloted Aircraft (RPA) systems, announced that it has successfully completed fuselage structural integrity testing of its Certifiable Predator B (CPB) RPA.
According to Airframer.com, the aircraft uses carbon and glass fiber/epoxy prepregs and composite surfacing films from TenCate Advanced Composites (Morgan Hill, CA, US) for the fuselage and structural beams.
"Completion of this testing signifies that the design of the new fuselage will be able to meet the strict requirements for type-certification and routine operations in national airspace," said Linden Blue, CEO of GA-ASI. The fuselage is designed to meet lighting-strike, damage-tolerance, and turbulence-induced stress requirements.
The "proof testing" across multiple regions of the fuselage allowed GA-ASI to evaluate and confirm the integrity of CPB's fuselage, including assessments of mechanical stresses at levels higher than the airframe will incur in flight. The resultant empirical data supports computational modeling, analyses, and verification to confirm compliance with airworthiness requirements. Data collected from stress tests will be leveraged for model correlation. Proof testing will be followed by aircraft flight testing in 2016.
Structural integrity testing of CPB's wings and tail design was completed in December 2015. The CPB features long-endurance wings with a wingspan longer by 14m, greater internal fuel capacity and additional hard points for carrying external stores. According to CEO Linden Blue, the new 24m wing span not only boosts the aircraft's range and endurance from 27 to over 40 hours, but also includes lightning and bird strike protection, non-destructive testing, and advanced composite and adhesive materials for extreme environments." Additional improvements include short-field takeoff and landing performance and spoilers on the wings which enable precision automatic landings. The wings also have provisions for leading-edge de-ice and integrated low- and high-band RF antennas.
GA-ASI's CPB development project is scheduled for aircraft production in 2018.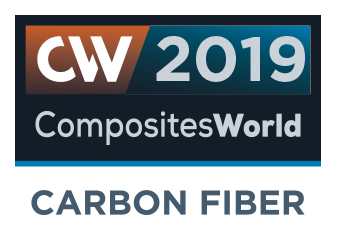 Carbon Fiber 2019 Presenter
Toray Advanced Composites
RELATED CONTENT
Lightweight, hard and stable at high temperatures, CMCs are emerging from two decades of study and development into commercial applications.

Spirit AeroSystems actualizes Airbus' intelligent design for the A350's center fuselage and front wing spar in Kinston, N.C.

Oven-cured, vacuum-bagged prepregs show promise in production primary structures.